Replacing a Citizenship Card or Certificate
You should apply to replace your citizenship card or certificate if it is damaged, lost or stolen.
You need your original Canadian citizenship certificate as proof of your Canadian citizenship. To replace your Canadian citizenship certificate or card you should submit:
An application for the replacement of your certificate

A supplementary declaration explaining what happened to your citizenship certificate or card

A copy of your identification cards to confirm your identity
As of February 1, 2012, Immigration, Refugees and Citizenship Canada no longer issues wallet-sized citizenship cards (a card with photograph). Citizenship Canada has introduced a new citizenship certificate – a letter-sized document bearing no photograph. If your citizenship card is damaged or lost, you will receive a citizenship certificate instead. Like the previous plastic, wallet-sized citizenship card, the new citizenship certificate is a legal document that will be used to determine Canadian citizenship status.
A Canadian citizenship certificate is not a travel or identity document. To travel internationally you need a passport. You need your original Canadian citizenship certificate to apply for a Canadian passport.
We Can Help!
Applying to replace your Canadian Citizenship certificate can be complicated and challenging. A high number of applications are rejected due to application errors or missing documents. If your application is returned for correction, the process would be delayed by a minimum of ten months..
We can help you to apply to replace your lost or stolen Canadian Citizenship certificate or card without any stress and unnecessary delays by ensuring the process is done professionally, quickly, and efficiently. We will assist you with:

Filling out the proper forms

Helping with the preparation of required supporting documents

Assessing your application, documents, and citizenship photos prior to submission

Submitting your application on your behalf

Acting as a liaison between our clients and government agencies, such as Immigration, Refugees and Citizenship Canada.
Let our readily available Canadian Citizenship experts ensure that your Grant of Canadian Citizenship application is done effectively to avoid rejection, delays, hassles, and headaches.
We're here to help!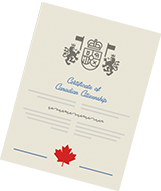 The fee includes:
Professional fees include the Citizenship application and supporting documents preparation, review, and administrative fees such as photocopies, long-distance telephone calls, fax, cost of submitting your application to the IRCC, etc.

The Immigration, Refugees and Citizenship Canada fees
CERTIFICATE
Canada AG Immigration & Citizenship Services is a regulated Canadian Immigration Consultant service registered and licensed by the College of Immigration and Citizenship Consultants (CICC) as well as a proud member of the Canadian Association of Professional Immigration Consultants (CAPIC) and an accredited member of the Better Business Bureau (BBB).